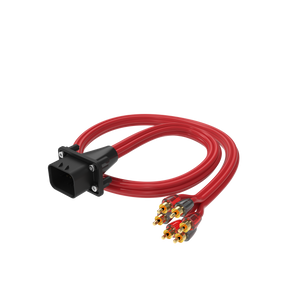 2017-2022 Malibu Factory Cabin Harness Adaptor (2023 available)
This item is hand built by technicians in house here at Exile Audio. Please allow extra time for the processing of this item. If you have any questions or concerns about your order please reach out to us at 1-888.249-0970
** 2023 version is available please call for details
The Malibu Factory Cabin Harness Adapter is designed to provide a transition between your 2017-2022, and newer, Malibu boat to your Exile Audio cabin amplifier. Simply plug one end into the factory Malibu cabin harness and then the other end into your Exile Audio amplifier. The Malibu Factory Cabin Harness Adapter provides a simple solution to add your favorite audio gear to your boat.

Note: Please check your boat for noise before adding any audio equipment.
Includes:
1 Malibu Factory Tower Cabin Adaptor (fits 2017-2022). Adapts factory plug to 3 pair RCA and 1 remote wire (remote not shown in picture). Speaker adapters also available as custom order.