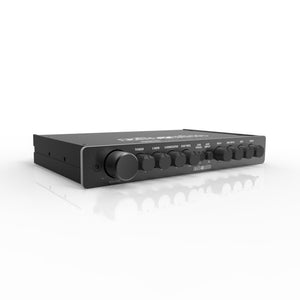 ZLD MKII | Zone Controller / Preamp
ZLD MKII takes marine audio to the next level with high definition signal processing and independent zone control for cabin, tower and subwoofer level control.

The MKII is redesigned from the ground up. We wanted to make the MKII a true statement piece for your boat. On the outside, the controls are separated for independent zone control (Cabin / Tower / Sub). The controls are LED illuminated and push button "pop up" style for simple control. Input gains are inverted to the bottom of the chassis, but remain user configurable. The chassis itself is a more rugged water resistant design and utilizes sealed "Tiffany" style RCA inputs that actually screw down to the chassis itself. The face is anodized grained aluminum. Even the knobs have been refined and the CNC turned aluminum for a high end feel to the user.
The upgrades continue inside the box: All new surface mount (SMD) circuit design physically shrinks the audio circuit for a more efficient layout. The PCB is a 4 layer glass epoxy including a conformal coat to provide a barrier between moisture and the electronics. The actual audio path in the MKII has been upgraded and incorporates a cascading op amp feature that lowers THD and distortion significantly over our competitiors. Line driver output voltage has been increased 30% to provide a full 9V specification. Every detail on this model is a completely new design!
Downloads