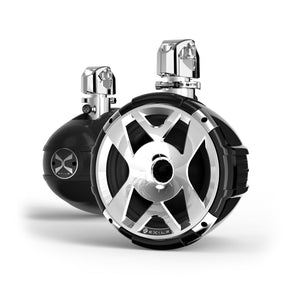 Open Box | XM9 | 9" HLCD Wakeboard Tower Speakers - One Pair
This item is considered to be Open Box. It has been opened and inspected by one of our engineers to ensure it's quality. We stand behind the performance of this product and will honor performance warranty. However, this product excludes any cosmetic warranty.
Make sure to add the appropriate tower adaptor to your cart. If you have questions about which adaptor is right for your boat please refer to the Tower Speaker Adaptor Guide below or call us at 1(888)249-0970
The XM series tower speakers are designed with one goal in mind - Maximum sound delivery at an unmatched range. The sound quality, form factor, power handling, fit and finish are un-matched by anything available on the market today. The XM9 includes a patented "quick release / rotational" clamping system that can direct sound a full 360 degrees to put sound on virtually any target. The XM9 has been precision engineered down to the smallest detail. What started as an idea became a vision and eventually turned into an engineering collaboration spanning several different industries. It was the efforts of many that allowed the Exile team to, "Dream it, Design it, and Build it from the ground up".
Power Handling
RMS
250w
Peak
500w
Nominal Impedance
4 ohm
Tower Speaker Adaptor Guide
All adaptors mount one pair of speakers unless otherwise stated.
| | |
| --- | --- |
| Adaptor | Description |
| Centurion Evo Lower | Fits Evolution towers in the lower position. |
| Centurion Evo Upper | Fits Evolution towers in the upper position. |
| Centurion Gladiator | Fits Gladiator towers in the upper or lower position. |
| Malibu G3 Single | Fits G3 towers. |
| Malibu G3 Double | Fits G3 towers. Mounts up to 2 pair of speakers. |
| Malibu G4 | Fits G4 towers. |
| Malibu Illusion X | Fits Illusion X towers in the upper or lower position. |
| MasterCraft | Replaces factory speaker integrated cap. |
| MB Sports | Fits 2017+ MB towers in upper or lower position. |
| Nautique Upper | Fits Nautique towers in the upper position. |
| Nautique FCT5 Lower | Fits FCT5 towers in the lower position. |
| Supra S Bend Lower | Fits S Bend towers in the lower position. |
| Supra SA Lower | Fits SA towers in the lower position. |
| Supra Upper | Fits S Bend & SA towers in the upper position. |
| Exile Full Clamp | Fits tube towers 2"-3" in diameter. |
| Exile Mini Clamp | Fits tube towers 1"-2" in diameter. |
Specs
Specifications
Effective Cone Area
44.65in SQ.
Compression Horn

35mm Titanium Diaphragm

Clamp to Tower fit

1.875 in to 2.5 in

Direct Cast Tower Mount
Approved Boats*

Malibu
Illusion X
XS
Tigé Alpha Tower
Centurion (Low Profile Mount)
*Addition Adaptor Required - Sold Separately

U.S. Patent #

6,798,892 B2

Dimensions
Hanging Height

10.5 in (266.3mm)

Speaker Height

9.9 in (251.2mm)

Speaker Width

10.0 in (253.7mm)

Speaker Depth


10.2 in (257.9mm)

Hanging Weight

10.8 lbs (4.9kg)
Downloads