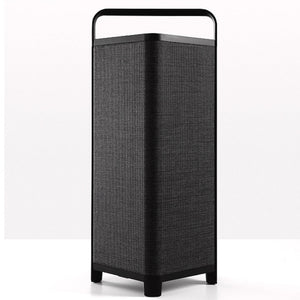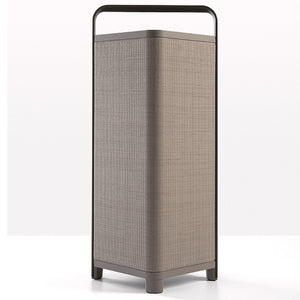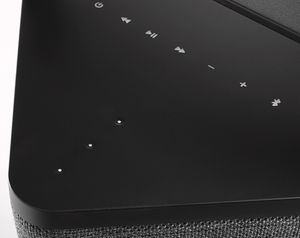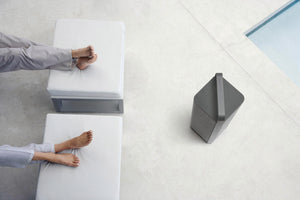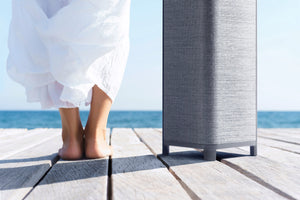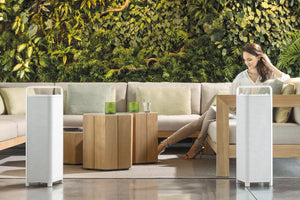 Open Box | Escape P6 Air
This item is considered to be Open Box. It has been opened and inspected by one of our engineers to ensure it's quality. We stand behind the performance of this product and will honor performance warranty. However, this product excludes any cosmetic warranty.
Designed for maximum multi-room flexibility
The Escape® P6 Air is based on the P6 BT platform but thanks to AirPlay 2, Chromecast built-in and Roon it offers the possibility to wirelessly stream music via an existing WIFI network to multiple speakers without the limitations of a single brand.
Like the P6 BT, this audiophile portable speaker is still most notable for its subtle beauty, discreetly adding style and color to your interior and far beyond.
DSP Technology: Experience fantastic 360 sound thanks to advanced DSP Technology.
Weatherproof Design: A timeless weatherproof design combined with wireless capability to enjoy your favorite music anywhere you go.

Built in Bluetooth® Receiver: Thanks to the built-in Bluetooth® receiver, the P6 Air can always be used in places where there is no WIFI reception.
Three Audio Presets: Use the three presets from the P6 Air keyboard to save your favorite airable radio stations.
16 Hours Continuous Playback Time: A powerful rechargeable battery of a new generation constructed of lithium iron phosphate (LiFePo4) provides 16 wireless listening hours at background volume or 8 hours at typical listening volume.
Features
Easily connects to a WIFI network via iOS or Google Home
The P6 Air easily connects to a wireless WIFI network via iOS (Apple AirPlay 2) or Google Home App (Android and iOS). The P6 Air supports various systems for multi-room Hi-Res audio streaming over WIFI. 
High-Res Multi-Room Streaming
The P6 Air supports the three main multi-room ecosystems that provide wireless audio streaming between different devices. This allows the P6 Air to work perfectly with products from other brands that also use the same technology.
Chromecast built-in
Chromecast built-in is a technology that allows you to stream your favorite music apps from your phone, tablet or laptop directly to your M1 Air or collectively to other compatible speakers like the P6 Air. Chromecast built-in works with both the iOS and Android operating systems.
Spotify Connect
Connect the P6 Air directly to Spotify via the same WIFI network and use the Spotify App as a remote control. It is easy to use and offers high quality audio playback. It is currently not possible to stream simultaneously to multiple speakers via Spotify Connect.  
Built-in Bluetooth®
 

receiver

One can also use the P6 Air via Bluetooth® in places where WIFI is not available. But unlike the P6 BT, the P6 Air will always try to connect to a WIFI network first. Therefore, the P6 Air will not immediately connect in Bluetooth after the device is turned on. The P6 Air will also only store the last paired Bluetooth device in its memory. The BT connection must be reactivated each time via the P6 Air keyboard by briefly clicking on the BT symbol. The Escape Remote app can only be used when the P6 Air is operating over WIFI.
Specifications
Audiophile Digital Power Amplifier: Total capacity 60W RMS
Frequency response: 20Hz -20KHz.
Digital interface - interaction via a customized Escape® remote app for both iOS® and Android™.
WIFI: 1 x 1 Dual Band 802.11 a/b/g/n/ac
Apple® AirPlay 2 chipset
Powerful 24-BIT DSP processor for optimal tone control and sound field processing algorithms. The advanced bass management offers music lovers the ultimate audio sensation.
Stream your music via Bluetooth® 5.0 to one P6 Air when WIFI is not available. (Does not support Twin mode as with the P6 BT)
Impressive Bass  Reproduction punching out bass that is both deep and powerful. Subwoofer diameter 6 1/2 inch (17cm)
Supports various systems for Hi-Res Multi-Room audio streaming (192KHZ/24-bit) over WIFI including Chromecast built-in, AirPlay2, Roon Endpoint and Spotify Connect. Lossless Audio Codec, Flac, APE and DSD support.
A powerful rechargeable battery of a new generation constructed of lithium iron phosphate (LiFePo4) provides 16 wireless listening hours at background volume or 8 hours at typical listening volume. 
Internal charging system (240 V / 50 Hz, 110 V / 60 Hz) for easy and convenient recharging of the battery via a power cord.
Weight: 7,50 kg

Product dimensions: 550mm (H) x 200mm (W) x 200mm (D)
Downloads