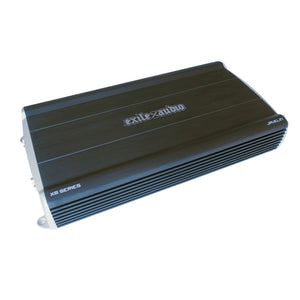 B Stock | XM Javelin
This item is considered "B" stock and may contain cosmetic blemishes. We stand behind the performance of this product and will honor performance warranty. However, this product excludes any cosmetic warranty.
Big Power.. Small footprint. The Javelin amplifier will power an entire 8 speaker cabin setup and still have the gusto to kick the crap out of a 800W rms subwoofer. It brings a lot of power to your stereo system where its needed most....The CABIN and BASS! The entire design has been upgraded to withstand the harsh marine environment and features stainless steel hardware and epoxy coated circuit boards to keep away moisture. The Javelin accomplishes all this in a package that measures 15"L x 7.5"W x 2.3"H. That's unbeatable Exile Power!

Power Ratings
Into 4 ohm
100w x 4
Into 2 ohm
150w x 4
Into 4 ohm bridged
300w x 2
Sub Channel Into 4 ohm
500w x 1
Sub Channel Into 2 ohm
800w x 1
Specifications
Dimensions
Length: 15.0in (381mm)
Width: 7.5in (190.5mm)
Height: 2.3in (58.4mm)
Channels
5
Amplifier Class
D
Fuse Size
40A x 3
Recommended Power/Ground Wire
4 AWG
Frequency Response
30 - 200Hz
Total Harmonic Distortion
<0.5%
Signal to Noise Ratio
92dB
Gain Range
0.2 - 6V
Low Pass Crossover Range
50 - 250Hz
Subsonic Crossover Range
15 - 250Hz
Bass Boost @ 45Hz
0 to +18dB
Operational Efficiency
>85%
Damping Factor
>200
Remote Bass Control
Yes