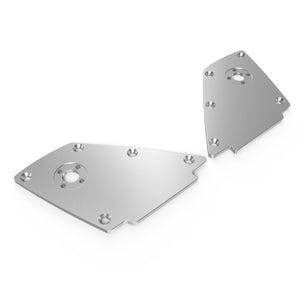 Nautique FCT5 - Lower Adaptor
Nautique FCT-5 adapters fabricated for easy installation of Exile Audio Tower Speakers into the Lower position. Factory Look. Perfect Fit. Sold as pair.
Nautique FCT5/200-Series adapters polished finish for installation of one pair of tower speakers direct to the lower factory mounting location on the FCT-5 tower. It mounts onto towers easily with perfect fit bolts, ideal for the patented Exile 360 spin clamp on all tower speakers. 
Includes:(1 pair) Nautique FCT-5 Adapters plates(1 set) of installation hardware
* Speaker Posts not included. Sold separately.