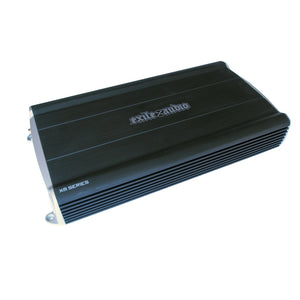 Open Box | XM15.4 | 4 Channel High Power Class D Marine Amplifier
This item is considered to be Open Box. It has been opened and inspected by one of our engineers to ensure it's quality. We stand behind the performance of this product and will honor performance warranty. However, this product excludes any cosmetic warranty.
XM series amplifiers deliver big power, combined with the build quality, that makes the amplifiers suited for outdoor, marine, or extreme installation. Exile Audio amplifier designs feature a coated 5 layer epoxy circuit board and stainless steel throughout the amplifier. XM series heat sinks feature 9.8 grams of aluminum per millimeter making it second to none in heat dissipation. These amplifiers are built rock solid and packed with features, plus tons of power. Check out all the technical specifications on the tab below, it definitely tells a detailed story.
Power Ratings
Into 4 ohms
150w x 4
Into 2 ohms
225w x 4
Into 4 ohms bridged
450w x 2
Specifications
Dimensions
Length: 12.7in (322.6mm)
Width: 7.5in (190.5mm)
Height: 2.3in (58.4mm)
Channels
4
Amplifier Class
D
Fuse Size
40A x 3
Recommended Power/Ground Wire
4 AWG
Frequency Response
30 - 200Hz
Total Harmonic Distortion
<0.5%
Signal to Noise Ratio
92dB
Gain Range
0.2 - 6V
Low Pass Crossover Range
50 - 250Hz
Subsonic Crossover Range
15 - 250Hz
Bass Boost @ 45Hz
0 to +18dB
Operational Efficiency
>85%
Damping Factor
>200
Remote Bass Control
Yes
Downloads