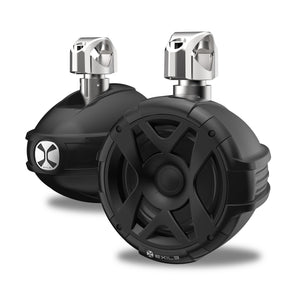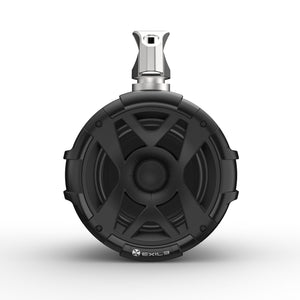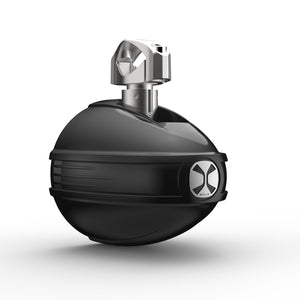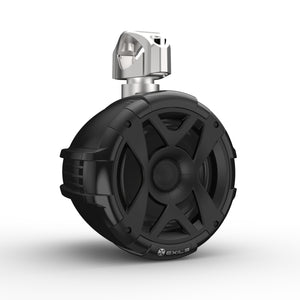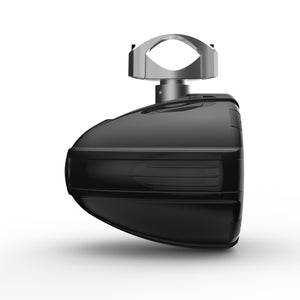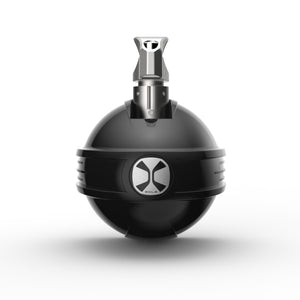 SXT7 | 7" Black Surf Tower Speakers - One Pair
While the SXT7 does not use the same quick disconnect technology as the XM9 and SXT9 speakers, it does rotate 360 degrees and fits all of our available mounting adaptors.
Make sure to add the appropriate tower adaptor to your cart. If you have questions about which adaptor is right for your boat please refer to the Tower Speaker Adaptor Guide below or call us at 1(888)249-0970.
The SXT7 began with one design goal in mind: "Bring Ultra Hi-Definition Sound" to the marine environment! The Exile sound quality, form factor, power handling and fit and finish are un-matched by anything available on the market today. The SXT7 includes a unique "fixed mount / rotational" clamping system that can direct sound in nearly 360 degrees and fits virtually any boat tower.
Power Handling
RMS
250W
Peak
500W
Nominal Impedance
4 ohm
Tower Speaker Adaptor Guide
| | |
| --- | --- |
| Adaptor | Description |
| Centurion Evo Lower | Fits Evolution towers in the lower position. |
| Centurion Evo Upper | Fits Evolution towers in the upper position. |
| Centurion Gladiator | Fits Gladiator towers in the upper or lower position. |
| Malibu G3 Single | Fits G3 towers. |
| Malibu G3 Double | Fits G3 towers. Mounts up to 2 pair of speakers. |
| Malibu G4 | Fits G4 towers. |
| Malibu Illusion X | Fits Illusion X towers in the upper or lower position. |
| MasterCraft | Replaces factory speaker integrated cap. |
| MB Sports | Fits 2017+ MB towers in upper or lower position. |
| Nautique Upper | Fits Nautique towers in the upper position. |
| Nautique FCT5 Lower | Fits FCT5 towers in the lower position. |
| Supra S Bend Lower | Fits S Bend towers in the lower position. |
| Supra SA Lower | Fits SA towers in the lower position. |
| Supra Upper | Fits S Bend & SA towers in the upper position. |
| Exile Full Clamp | Fits tube towers 2"-2.75" in diameter. |
| Exile Mini Clamp | Fits tube towers 1"-2" in diameter. |
Specifications
Specifications
Effective Cone Area
TBD
Tweeter
25mm Titanium Diaphragm
Clamp to Tower fit
1.875 in to 2.75in
Dimensions
Hanging Height
9.5 in (240mm)
Speaker Height
8.5 in (217mm)
Speaker Width
8.9 in (225mm)
Speaker Depth

9.5 in (240mm)

Hanging Weight
TBD

Downloads