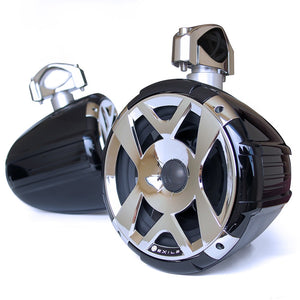 SXT9Q | 9" Black Surf Tower Speakers - One Pair
Make sure to add the appropriate tower adaptor to your cart. If you have questions about which adaptor is right for your boat please refer to the Tower Speaker Adaptor Guide below or call us at 1(888)249-0970.
The SXT9Q Swivel Mount Tower speakers are designed to emphasize premium sound clarity and be a substantial upgrade over factory tower speakers. It's 1" Titanium grill mounted tweeter is suspended directly in front of the mid bass driver and positioned to deliver precise accurate sound without interfering with the mid-bass. SXT tower speakers are perfect for family, party cove, and wake surf configurations. It's a great upscale tower speaker ideal for the surfer at a close range with great projecting power.
Power Handling
RMS
200w
Peak
400w
Nominal Impedance
4 ohm
Tower Speaker Adaptor Guide
| | |
| --- | --- |
| Adaptor | Description |
| Centurion Evo Lower | Fits Evolution towers in the lower position. |
| Centurion Evo Upper | Fits Evolution towers in the upper position. |
| Centurion Gladiator | Fits Gladiator towers in the upper or lower position. |
| Malibu G3 Single | Fits G3 towers. |
| Malibu G3 Double | Fits G3 towers. Mounts up to 2 pair of speakers. |
| Malibu G4 | Fits G4 towers. |
| Malibu Illusion X | Fits Illusion X towers in the upper or lower position. |
| MasterCraft | Replaces factory speaker integrated cap. |
| MB Sports | Fits 2017+ MB towers in upper or lower position. |
| Nautique Upper | Fits Nautique towers in the upper position. |
| Nautique FCT5 Lower | Fits FCT5 towers in the lower position. |
| Supra S Bend Lower | Fits S Bend towers in the lower position. |
| Supra SA Lower | Fits SA towers in the lower position. |
| Supra Upper | Fits S Bend & SA towers in the upper position. |
| Exile Full Clamp | Fits tube towers 2"-3" in diameter. |
| Exile Mini Clamp | Fits tube towers 1"-2" in diameter. |
Specifications
Specifications
Effective Cone Area
44.65in SQ.
Tweeter
24mm Titanium Diaphragm
Clamp to Tower fit
1.875 in to 3.0 in
Direct Cast Tower Mount
Approved Boats*

Malibu
Illusion X
XS
Tigé Alpha Tower
Centurion (Low Profile Mount)
*Addition Adaptor Required - Sold Separately

U.S. Patent #
6,798,892 B2
Dimensions
Hanging Height
10.5 in (266.3mm)
Speaker Height
9.9 in (251.2mm)
Speaker Width
10.0 in (253.7mm)
Speaker Depth

10.2 in (257.9mm)

Hanging Weight
10.8 lbs (4.9kg)
Downloads